For many, it will feel like they have heard about nothing but the EU since the vote to leave the bloc in June – but the fact is it will be an issue that will dominate the agenda again for 2017, at least if you are in Britain.
The Brexit vote ended in a result that shook much of the continent, but neither the UK Government nor EU officials appear to know what it means. Clarity – at least in part – could come when Prime Minister Theresa May lays out her plans for a "global Britain" in a speech early in the year. Many, including some in Brussels, may hope that the speech makes the situation less muddy – but the path through negotiations will likely be difficult for both sides. 
While the referendum result was a big blow to the European project, the truth is that the EU had faced a number of other problems in the preceding 12 months that will likely roll into 2017.
One major issue is how to deal with the thousands of refugees and migrants that continue to try and make their way across the sea to mainland Europe from the many warzones in the Middle East. Thanks to a slow and fragment response to the crisis that has been present for a number of years the problem is now two-fold – how to stop people making their way to mainland Europe, and then how to resettle those that have.  
One route was thought to have been closed off with an agreement with Turkey was the Aegean Sea. Turkey had agreed to take many of those who had made it across the sea back from Greece, but as talks over opening the door to EU ascension have floundered following the failed coup against Turkey's President Recep Tayyip Erdogan this past summer, that deal has been thrown into doubt.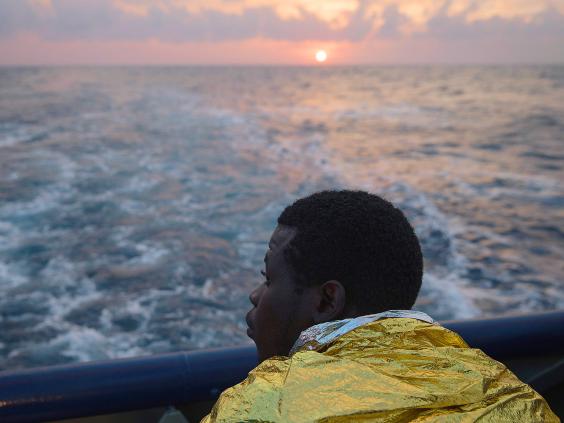 A Senegalese man aboard a search and rescue vessel as it makes its way to Vibo Valentia, Italy, in November (Getty)
The number of refugees and migrants using the Aegean route has fallen dramatically, but the number of deaths across the Mediterranean as a whole in 2016 reached a new peak of more than 5,000 – thanks to those taking the central Mediterranean route mostly from Libya. More will need to be done to stop the smugglers cramming people onto boats to help stem the flow of people – but the more pressing issue for many countries is how to deal with the people that have already made it.
Sensing the potential political fallout from taking in too many refugees, many nations across the EU have been very slow to settle the numbers required to alleviate the stress on nations such as Greece and Italy – it remains to be seen whether any headway will be made this year, but the conditions for many kept in shelters and centres on the fringes of the continent mean that speed should be of the essence.
One of those who has felt the pressure of her policy on refugees is German Chancellor Angela Merkel. With Germany having taken in more than a million refugees and migrants, Merkel has faced criticism following a spate of terror attacks across Germany in 2016, some of which that have been blamed on asylum seekers who were in line to be deported – including the attacker in the most recent incident in Berlin just before Christmas.
The anti-immigration Alternative for Germany (AfD) has made gains off the back of anger over the attacks – and there have been suggestions that Merkel could potentially could face difficulties in seeking a fourth term as Chancellor in parliamentary elections later in 2017, particularly as sections of her own party have questioned immigration policy. However, a complete defeat for Merkel and her Christian Democratic Union (CDU) party seems unlikely – even if the AfD might win seats in the German parliament for the first time. Especially as few would be willing to join a coalition containing the AfD.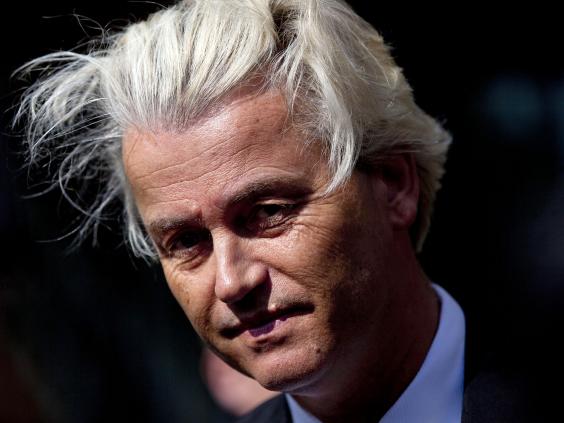 Dutch far-right politician Geert Wilders, who was recently found guilty of hate speech, could do well in the forthcoming Dutch election (AP)
While Merkel being toppled would be seismic event, there are a number of elections across Europe in 2016 that could prove to be more interesting, particularly in terms of the performance of the hard-wing populist elements.
In March, the Dutch go to the polls in parliamentary elections where the far-right Freedom Party have consistently led in the polls in recent months. Their leader, Geert Wilders, recently found guilty of inciting discrimination, would seek a large enough win over the centre-right People's Party to be able to form a government. It is set to be close between Wilders's party and the People's Party, led by Mark Rutte. Even if the Freedom Party finish second, they may try and form a coalition with another party. A solid win for the pro-European moderate Mr Rutte, or at least one where he doesn't have to contemplate a partnership with Wilders, will be a welcome relief for the EU establishment.
This year also sees elections in Serbia and Norway, but the hammer-blow to the European project could come from France. A vote for a new president will take place over two rounds in April and May, with the rise of Marine Le Pen's Front National (FN) party the main concern. Ms Le Pen is tipped to make the second round run-off – likely against the winner of the centre-right primary François Fillon. Fillon is expected to then take office comfortably according to polls – but polls have lost some of their lustre thanks to the results of 2016. The disintegration of support for the leftist Socialist party – with President François Hollande polling abysmally before deciding to step aside may actually help Fillion if it comes down to "anyone but Le Pen".
The wildcard election is Italy. While it is not clear when, or if, one will happen this year the resignation of Matteo Renzi after losing a referendum on constitutional reform has opened an avenue to other anti-European parties. Two opposition parties oppose the EU, with Beppe Grillo's Five Star Movement the lead proponent. Depending on what election system is used, Five Star could form a coalition or count on support in any potential run-off round.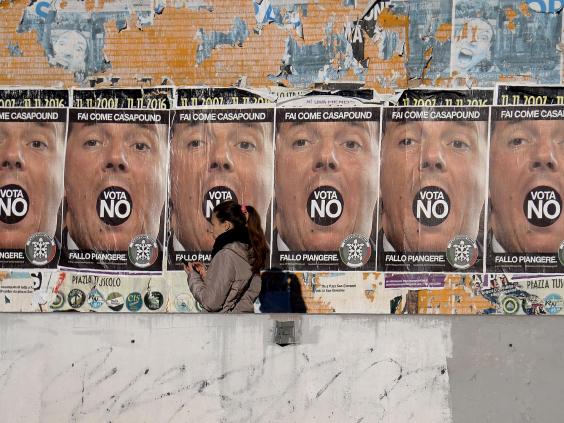 Posters calling for a No vote in Italy's constitutional referendum in December (Getty)
Two other leaders hang over all this like spectres. The first is Donald Trump, an unknown quantity that European leaders appear to be treading lightly around before he takes office in late January. The second, arguably larger, presence is that of Russian President Vladimir Putin. He has played a leading role in the Syrian conflict this year, a civil war in which a number of European nations are entangled, so nations have to tread carefully. Putin has indicated he is looking to start positively with Trump, a position which will provide further strength.
Russia's involvement in the conflict in Ukraine, and the fears of aggression from the nations on its borders will also provide a headache for the EU and a number of other nations.
Mr Putin also has a role in dealing with the threat of Isis and other terror groups in Syria and provides another complicating factor. The threat of attack from jihadi cells is something that stalks leaders across the continent. Germany, Belgium and France have faced attacks in 2016 with plots thwarted elsewhere in Europe. Safety of civilians is at the top of the list of priorities for any government, so the threat of attack will also shape polices during 2017.
Reuse content