The dollar steadied, Treasuries rose and U.S. stock futures edged higher as traders counted down to the Federal Reserve's interest rate decision. A bullish mood took hold in European equities, where technology companies extended their bounce.
The Stoxx Europe 600 Index headed for the highest in more than a week as companies including ASML Holding NV and Hexagon AB led the tech share revival in the region. The British pound, which rose Tuesday for the first time since the U.K. election, fell as data signaled a further deterioration in living standards. Oil resumed its decline as industry data showed U.S. crude stockpiles expanded and the International Energy Agency predicted new non-OPEC output would outstrip demand growth next year.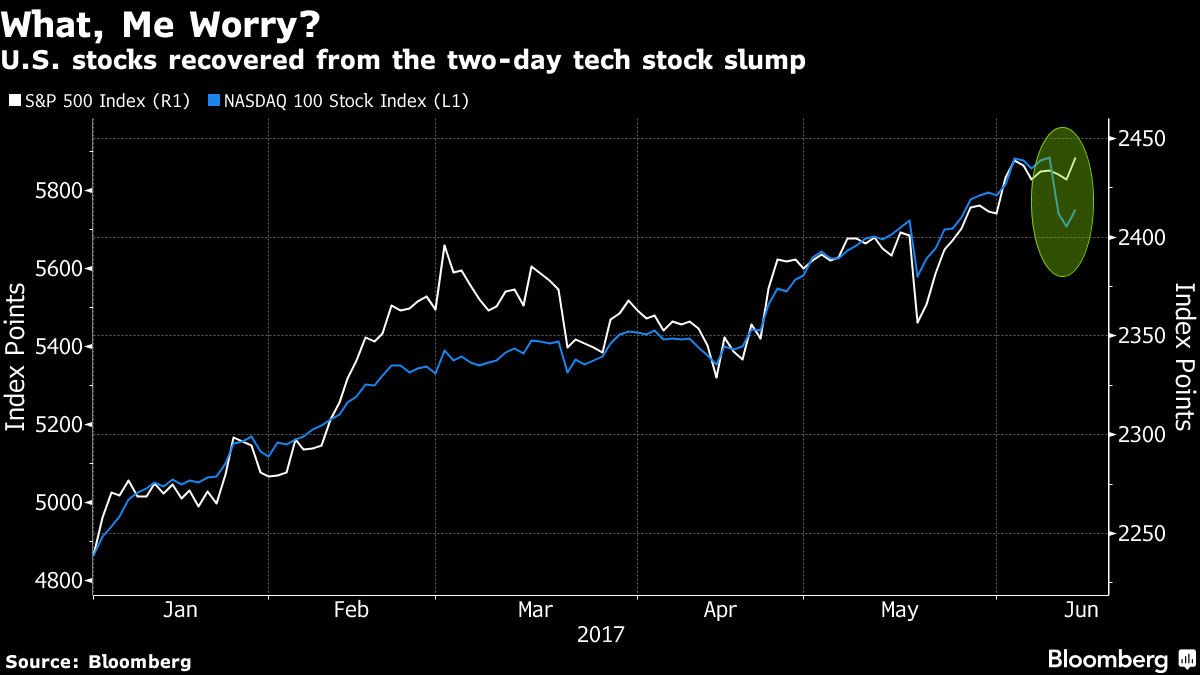 As stocks stabilize in the wake of the tech wobble, all eyes are now turning to the Fed as it sets borrowing costs in the world's biggest economy. Policy makers are widely expected to raise interest rates, stick to previous guidance for another hike before year-end, and probably acknowledge that inflation is muted. The $4.5 trillion question will be what clues are given on the timetable and scale of eventual balance sheet reduction.
Read more: Bond Market Volatility Drops to Taper-Tantrum Lows as Fed Meets
"Markets will probably mostly just trade sideways today in front of the Fed's rate decision and press conference," John Cairns, a Johannesburg-based currency strategist at Rand Merchant Bank, said in a client note. "The range of issues that the bank has to cover and the market's sensitivities to even the slightest changes suggest some market volatility after the event."
Read our Markets Live blog here.
Here are the key events to watch this week:
Data before the Fed is expected to show consumer-price growth slipped back to 2 percent in May with the core stuck at 1.9 percent. Real average earnings growth data will be released at the same time.
Lest we forget, central banks in Japan, Switzerland and Britain are also scheduled to weigh in with policy decisions this week. Investors have reined in expectations for a Bank of England interest-rate increase after the election shock.
EIA data today on oil inventories will be parsed to see if it confirms API figures from Tuesday.
And here are the major movers:
Stocks
The Stoxx Europe 600 Index gained 0.6 percent at 8:09 a.m. in New York, building on its 0.6 percent increase Tuesday. Tech shares rallied 1.3 percent.
S&P 500 futures advanced 0.1 percent. The gauge added 0.5 percent Tuesday and the Nasdaq 100 climbed 0.8 percent, rebounding from its worst two-day drop of the year.
Currencies
The pound slipped 0.2 percent to $1.2735 after it strengthened 0.8 percent Tuesday.
The Canadian dollar rose 0.3 percent, gaining for a fifth day. The euro fell 0.1 percent to 1.1200.
The Bloomberg Dollar Spot Index was little changed. The yen was 0.2 percent weaker at 110.31 per dollar.
Bonds
The yield on 10-year Treasuries was down one basis point at 2.20 percent.
The yield on U.K. gilts dropped three basis points to 1 percent after rising seven points on Tuesday.
Commodities
West Texas crude futures fell 0.7 percent to $46.13 a barrel. U.S. inventories climbed by 2.75 million barrels last week, the American Petroleum Institute was said to report.
Gold fell less than 0.1 percent to $1,265.84 an ounce.
Asia
Chinese data showed resilience in retail sales and industrial output, but equity markets there fell on concerns about a crackdown on the insurance industry.
The Shanghai Composite Index tumbled 0.7 percent and the CSI 300 Index dropped 1.3 percent, its biggest loss this year. The Hang Seng Index erased losses to add 0.1 percent and the Kospi Index in South Korea fell 0.1 percent.
Japan's Topix Index closed down 0.1 percent, while Australia's S&P/ASX 200 Index climbed 1.1 percent to its highest since May 16.